Steph Castor: All Hail the Harmony
My journey as a guitarist began when I was born. My mother might as well have been a member of the Partridge Family, and my Papa was our very own David Cassidy. They had spent the 1970s and 1980s traveling the midwest in a taupe colored bus with shag carpet, eventually ending up in central California some time in early 1984.
My mother never understood guitar, but she inspired me throughout elementary school with nostalgic recollections of playing the fiddle during a two hour set in Harveyville, Kansas. The way her face lit up when she talked about it made me believe that music ran deep into our family history, but it was my Papa's perseverance that ignited me.
I didn't actually start playing guitar until I was eleven years old. It was one of those situations in which I had saved up an allowance and just really wanted to spend it on something. Unlike most kids, I wanted something useful. Not candy. Not toys or video games. I felt compelled to express myself. I had always been a fairly artistic child, whether it was drawing, painting, playing with molding clay, or firing ceramics with my Grammie in her garage. This time it was a toss up between making movies and starting a band. I weighed my options of buying a video camera or an acoustic guitar. In hindsight, the camera seemed too superficial. I wanted to make movies because I wanted to perform stupid stunts like the reckless jackals on MTV.
I think I probably chose the guitar partially out of obligation, but also because I wanted to be a hero like Papa. I wanted to have the same imprint on someone's life, or multiples, that he had on me through his music. Even at such a young age I think I understood what it meant to make a difference through art. I wanted to change the world and leaving a burning path for future musicians to follow. So I walked into Lightning Joe's Guitar Heaven with my mom one day after school. I had spent hours rolling pennies until I scrounged up $149— just enough to afford a sunburst Johnson acoustic and the burning heart strap I'd been eyeballing. Was it perfect? Of course not. But it was perfect to me, and it was perfect for the family that had encouraged me to fall in love with something that I was okay with hating at times. That kind of logic comes with time, but that first step helped me to understand a world of complicated energy and emotion. Something gorgeous enough to ruin you if you aren't careful.

I haven't been ruined yet. Or maybe in some cases I have. It all depends on how you view purpose, I suppose. I've routed my future. I've gotten on my own bus. I've adopted my own family of peculiar vagabonds and welcome the ride to our next destination. I've fallen in love with the people that help me create the harmony worthy of setting a stranger's heart ablaze.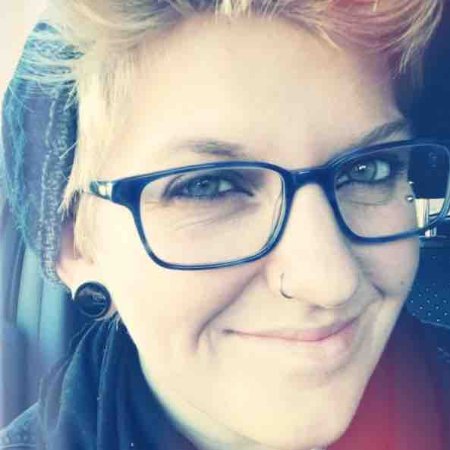 Steph Castor is a writer, musician and performance poet currently residing in Kansas City, MO. She attended Columbia College Chicago for Poetry as well as the University of Kansas for Creative Writing and plays guitar for an alternative indie rock band called Vigil and Thieves.
She founded the #LFK Poetry Slam and has written for various publications including Guitar World, Tattoo, Curve Magazine and more. She enjoys indie music, tattoo culture, hip hop, vegan food, whiskey, and east coast beaches.