Finding a Quiet: A Brutally Honest Yet Brief Tour Recap
Shutting your brain off and returning to everything that has been deemed "normal" in the world is one of the hardest things a musician can do after spending time on the road. Strangely, by the end of your adventure, you're almost certain you're ready to kick your shoes off and flop into a familiar bed— even if there is still dog hair all over your pillow. The problem is that music, much like any other true art form, is a catharsis. The act of playing guitar lets you translate your darkest thoughts, deepest worries, rejuvenated contentment, ambitions for the past, longing for the present, and fear of the future all into one universal yet hopeless and misunderstood language for all the world to imbibe.
I began playing guitar when I was eleven years old. I tell people that I wanted to be in a rock band after listening to my dad's Metallica records and discovering Blink-182 by flipping through my fifth grade neighbor's binder of lightly scratched CDs. No one had to tell me she was a poor influence. I already knew it. Which is perhaps why I avoided local clumsy skate punk shows and experimenting with pot until my 24th birthday. This wasn't supposed to be angry or bitter, I actually love Blink-182, and Cortney probably shaped some of the more rewarding parts of me. But after eight hours a day of staring out a filmy window into the same dying deciduous tree— I'm feeling trapped. And at the same time I have all the freedom in the world. I'm not sure how long I can be stationary.
We spent ten days in the van. Not perpetually, but enough time that peeling our socks off became an after show routine and the tinny mildew smell from our drummer's creased black New Balance shoes has left some strange ghost aroma, even two weeks after the fact. I called them "dad" shoes. To his face. And I never apologized for it, even though it likely didn't hurt his feelings all that much. He still wears them. But the thought presses into my brow the same way email stress buries itself into my eye sockets after I've dodged an important work or booking request— as if I've swapped what was left of my visual clarity for cold steely marbles in a game that I can never win.
Home is suffocating sometimes. I've realized that playing guitar, particularly with a small group of people I love and abhor at the same time, is the only true release I will ever get from the minuscule and trivial burdens that so easily hold me down. The road is the way out and on to better things. Anyone can be a musician, but not every musician seeks to make a difference.
The story of how I learned to play guitar is not a secret. But the story of why I quit two full time jobs with benefits to pursue music is. Most people will think it's because I want to "make it." Of course I do. Everyone fantasizes about living a rockstar life, even if they've never picked up an instrument. All fame aside, I've given up everything for music more than once, because I can't escape the dimension of risk and gratification that the road possesses. This realization is my finding a quiet. It is my "welcome home" party that I'll be leaving early.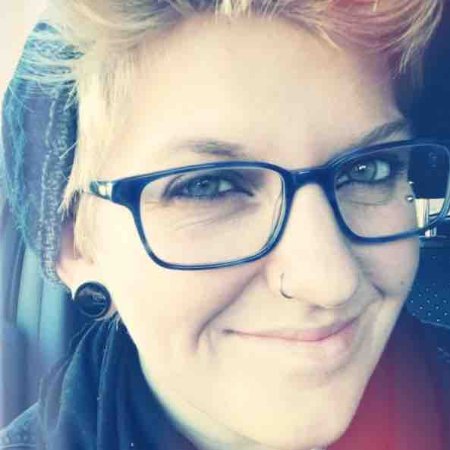 Steph Castor is a writer, musician and performance poet currently residing in Kansas City, MO. She attended Columbia College Chicago for Poetry as well as the University of Kansas for Creative Writing and plays guitar for an alternative indie rock band called Vigil and Thieves.
She founded the #LFK Poetry Slam and has written for various publications including Guitar World, Tattoo, Curve Magazine and more. She enjoys indie music, tattoo culture, hip hop, vegan food, whiskey, and east coast beaches.